Custom Development Services for Your Transportation Needs
Welcome to KSAP's Custom Development Services, your trusted partner for tailor-made solutions designed to optimize your logistics processes. With over two decades of expertise in custom development, we have a proven record of delivering innovative products and solutions that cater to the unique requirements of our clients.
About KSAP
At KSAP, we don't just understand Supply Chain; we live and breathe it. Our team of experts has invested over 20 years in perfecting our craft and developing products and solutions that seamlessly integrate with OTM as well as other applications. These solutions are meticulously designed to address client needs that surpass the capabilities
of standard Oracle functionality.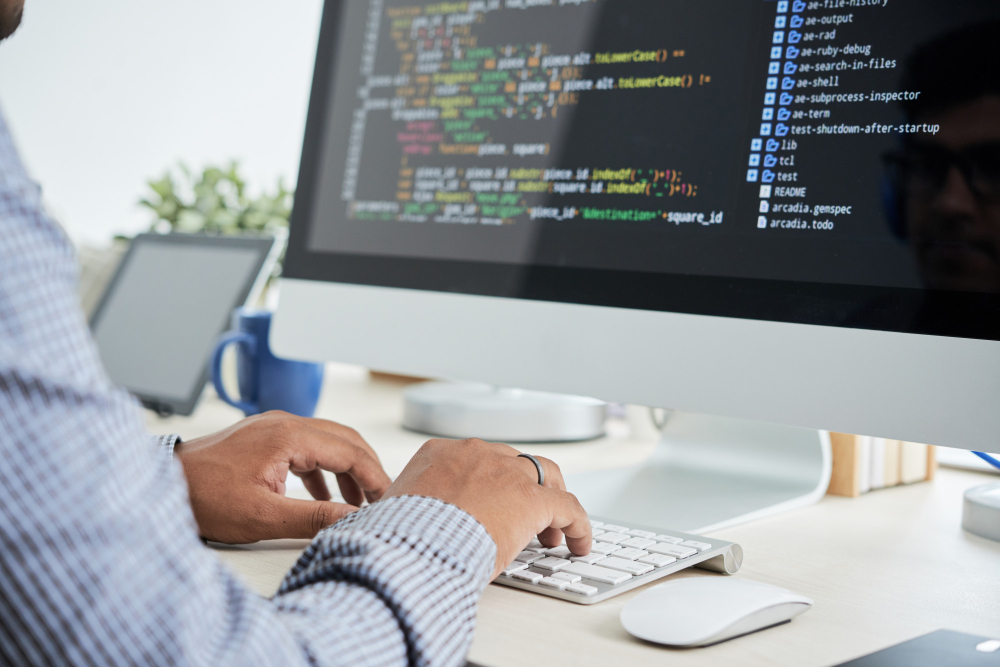 Why Choose Custom Development with KSAP?
1. Unrivaled Expertise
Our team comprises OTM experts with an extensive background in tackling complex challenges within the transportation management domain. This wealth of knowledge enables us to craft custom solutions that are both efficient and cost-effective. We have developed TMS applications for our clients.
2. Tailored Solutions
We recognize that no two businesses are alike, and their transportation management needs can be equally unique. Our custom development services empower us to create solutions that are tailored precisely to meet your specific transportation requirements, helping you accomplish your logistics and supply chain goals more effectively.
3. Seamless Integration
Our custom solutions are designed to integrate seamlessly with your existing systems, ensuring minimal disruption and a faster return on your investment. You can trust that our solutions will align perfectly with your workflow.
4. Enhanced Functionality
KSAP's custom development can extend the capabilities of your OTM system, overcoming the limitations of standard Oracle functionality. This leads to improved efficiency, reduced operational costs, and greater customer satisfaction.
Our Code Development Strategy
KSAP's code development strategy is founded on a deep understanding of Oracle Transportation Management and a commitment to delivering high-quality, customized solutions. Here's a glimpse into our approach:
1. Comprehensive Analysis
Before we initiate any development work, we embark on a thorough analysis of your business needs and your existing OTM setup. This ensures that our solutions are precisely tailored to address your specific requirements.
2. Agile Development
We embrace agile development practices, allowing us to adapt swiftly to changing project requirements. This agility ensures that our solutions remain aligned with your evolving business objectives.
3. Stringent Quality Assurance
Quality is paramount at KSAP. Our solutions undergo rigorous testing to ensure they meet the highest standards for performance, security, and reliability. We don't cut corners when it comes to quality.
4. Continuous Support
Our commitment to your success doesn't end with the delivery of a solution. We provide ongoing support and maintenance to keep your custom applications running smoothly and evolving as your needs change.
Custom Applications from the Ground Up
At KSAP, we go beyond customizing OTM. We have the expertise to develop applications from the ground up to meet your Supply Chain and Logistics solution needs. This involves crafting tailor-made applications that are designed specifically for your unique requirements.
With our custom application development services, you gain:
Total Flexibility: We build applications that adapt to your evolving needs, providing the agility to respond to changing market conditions.
Scalability: Our applications are designed to grow with your business, ensuring that your solutions continue to serve your requirements as you expand.
Innovative Solutions: We bring fresh ideas and innovation to the table, helping you stay at the forefront of the supply chain and logistics industry.
Reliable Support: Our commitment to ongoing support ensures that your custom applications remain dependable and up-to-date.
Custom Applications on PaaS
Furthermore, KSAP has the capability to develop custom applications on Oracle's Platform-as-a-Service (PaaS). This not only streamlines development but also provides you with the flexibility and scalability needed to adapt to ever-changing business requirements.
With PaaS, you can benefit from:
Rapid Development: PaaS accelerates application development, reducing time-to-market for your custom solutions.
Scalability: Easily scale your applications to meet growing demands without the burden of infrastructure management.
Cost Efficiency: PaaS eliminates the need for costly hardware and infrastructure investments, saving your business money.
Security and Compliance: Built-in security features help protect your data and ensure compliance with industry standards.
Partner with KSAP to unlock the full potential of your Oracle Transportation Management system and create custom applications that set you apart in the competitive world of supply chain and logistics.
Learn more about the services KSAP can offer.